Here is a short bio of Nick Page followed by a longer bio (see the testimonies, resumé, and music pages for more info).
Born December 8, 1952 in Arlington, MA
SHORT BIO
Nick Page is a Boston based composer, conductor and author who is best known for his song leading.  In the 1980's he was a conductor with the Emmy Award winning Chicago Children's Choir.   Since 1990, he has led Boston's Mystic Chorale and guest conducted around the word including at three of the four Carnegie Halls (Pittsburgh, New York, and Scotland).  His choral works have premiered everywhere from Lincoln Center to humble school cafitoriums.   He is the author of three books and has close to one hundred published choral pieces.
LONGER BIO
Nick Page has been surrounded by singing all his life.    Every Saturday night his family would gather around the fire to sing folk songs, pop songs, spirituals, and rounds—songs in harmony.    Nick does not see these early experiences as being old fashioned or from a distant past, long ago replaced by television.   Instead, he sees these experiences as being necessary for growth, both as an individual and as a member of society.
Believing that there should be no separation between the talented and the untalented, Nick Page makes his living as a song leader, conductor, and composer.   He works with children who have an inborn love of singing and he works with adults, many of who have lost their love of singing a long time ago.   Nick renews the love.    He also works with educators, both classroom teachers and music specialists.   His teacher workshops foster creativity and compassion, making the emotions come alive.   These workshops range from multicultural themes to the integration of music into academic subjects (science, reading, history etc.).

Nick Page completed his Masters in Education in 1993 (Lesley).   His undergraduate degree was from Ithaca College (1975), where he majored in Music Education.   While in Ithaca, he wrote and produced COMIC REQUIEM (SON OF FAUST). It was the story of Humphrey Mozart, a professional wrestler who becomes the greatest living composer (and destroys music). It was presented to a full house.    Thirty years later Nick's COMIC BOOK OPERA was performed at Lincoln Center. It is a one-act opera about children stuck in a freak kitchen accident who become Cuisinart Boy, Microwave Girl and others. The Evil Trash Compactor tries to profit from trashing the world but the downtrodden Oven Mitt Boy saves the day.
After college, Nick taught at all levels K-12 and he continued to compose and arrange choral works as well as musical comedies.   His music is now performed by choral groups around the world with almost a hundred pieces published by Boosey & Hawkes, Hal Leonard, World Music Press, Alliance, Transcontinental, Choristers Guild, Roger Dean with many more on the way (see the music section of this website).
Nick has received commissions from many choral organization including the Chicago Children's Choir, the Elgin Children's Choir, the Glen Ellyn Children's Choir, the Disney World 1999 Keynote Festival Choir, The Naperville Singers, the Tulsa Children's Choir, Boston Zamir Chorale, The Jubilate Singers, the Cal State Concert Choir, The Syracuse Children's Choir, the Canterbury Children's Choir, the St. Marks School Chorus, Joyful Noise (NJ), Northwest Girlchoir (Seattle), Campbell River Chidren's Chorus (BC), Fairfield County Children's Choir (CT), Greenwich Honors Chorus (CT), Cincinnati Children's Choir, HaZamir Chorale (NYC), Kettering Children's Choir (OH), and the honors choirs for Oklahoma and Florida State ACDA conventions.
Nick has always loved challenging others to see how amazing they can be.   At one school, his students collaborated on a project involving drama, music, and art using THE RIME OF THE ANCIENT MARINER.   He leads workshops where people of all ages create spoken operas that are always quite unique and sometimes quite funny.
During these years, Nick wrote three musicals. His first two musicals were written for children. The GIMME GIMMES is about a land where greed is the norm. When it's your birthday, people steal from you. OLLY OLLY END FREE takes place on a planet where what you believe is true. They believe that the planet is flat and that women are inferior. A young woman named Chris argues that women are equal and that the planet is round. They give her a boat and she sails off the edge. Don't worry, there's a happy ending where everyone becomes equal (because they come to see it's true).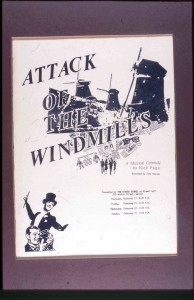 Nick's third musical ATTACK OF THE WINDMILLS was produced at Rivers School in Weston in 1983. Nick is currently rewriting it (starting from scratch).  It is the story of David and Libba, a man who does not sing and a woman for whom singing is central to life. The central struggle in the musical is between living life in the shadows of fear and guilt (the windmill) and living life in the full glory of joy, pain, compassion and beauty (the flower). (see the website section on ATTACK OF THE WINDMILLS).
In 1979, Nick studied conducting with Lorna Cooke deVaron at New England Conservatory.  Also that year, he played the giant one of Jack Langstaff's CHRISTMAS REVELS productions in Cambridge, MA.   Marshall Dodge (Bert & I) was the featured guest.
In 1983, Nick moved from his native New England to Chicago where he worked as a conductor and Training Units Director with the six hundred strong Chicago Children's Choir.   The experience changed his life.   He became intoxicated with the worlds of Black Gospel and folk, classical, and pop music from Jewish traditions.   The passion of the music drove him to study more music of great energy, particularly the choral styles from diverse cultures.   He studied the South African Mbube choral style with Joseph Shabalala of the group LADYSMITH BLACK MAMBAZO.   He studied jazz and pop choral styles with Bobby McFerrin and Richard Greene from THE BOBS.  In 1987 he took a workshop with Ysaye Maria Barnwell of the woman's singing group SWEET HONEY IN THE ROCK.   She created an amazing singing ensemble from a group of people, most of whom had never sung before in their lives.   This, plus the way she brought the culture behind the music into total focus, was an inspiration for Nick Page.
He had returned to New England by then.    He taught music for four years at Cambridge Friends School (Cambridge, MA).  He produced a huge staging of the legend of St. Brendan that featured a thirty-foot long whale that circled the audience.  He began leading sing-a-longs for people of all ages.   He has traveled across North America leading what he calls POWER SINGS with adult groups, elementary, junior high, and senior high school students as well as at many colleges.  In 2000 he created a CD, The Nick Page Songbook, containing twenty songs for singing celebrations including several originals.
As part of his graduate studies, Nick studied ethnomusicology with David Locke at Tufts University.   He learned to see all music from a cultural perspective.  The principal differences between an Akha chant and a Bach chorale are cultural, not musical.   Nick began to incorporate the cultural styles of many traditions in his compositions – sometimes using elements from two or more traditions in the same piece.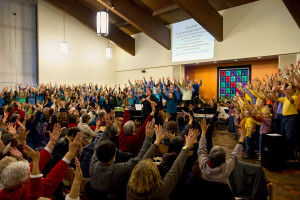 Nick founded THE MYSTIC CHORALE in 1989.   The two hundred-member chorus presents concert/sing-a-longs where the audience is an equal partner in creating the music.   They have presented concert/sing-a-longs on many cultural themes including South African, Central European, Celtic, North American, Latin American in addition to the annual Gospel sing that features both black and white Gospel music.   He has toured with them to Canada, Germany, Ireland and Costa Rica.   Every other year they perform in new York City.   They have over thirty professionally produced CD including a triple CD of the best of their first twenty years (available at www.mysticchorale.org).
In 2007, Nick spent a week studying composition with Alice Parker.   She continues to be a huge influence both as a composer and as a song leader.   Together they have worked with JOYFUL NOISE, a New Jersey adult chorus of singers with physical and intellectual disabilities.  Nick was inspired by how they had no walls holding in their emotions.   He was moved to write a song for them, "You have a heart, use it.   You have a heart, let it out."
The soloist was Todd Emmons, one of the great souls on this planet.
Mr. Page is the author of three how-to music books.  The first, SING AND SHINE ON! The Teacher's Guide to Multicultural Song Leading (World Music Press), explains why singing and music are essential for learning and it gives detailed song leading instructions.   The second book, MUSIC AS A WAY OF KNOWING (Stenhouse) shows how to use music to teach reading, writing, math, science, and social studies.   Hal Leonard publishes his SING WITH US Songbook, a multicultural collection choral arrangements (and originals) that can used as sing-alongs with their audiences.
Since 1890, Nick has made a living as a song leader, guest conductor, author, composer, worship leader, and workshop clinician.  He has been attending the North American Jewish Choral Festival (NAJCF) since 1997.   He has led sings and workshops and in 2013 conducted one of the four choral ensembles that conference participants sing in.   It is the fulfillment of a lifelong love of Jewish music.   Nick is a proud Unitarian Universalist and has led sings and worship at hundreds of UU congregations throughout North America (and one in the UK).  He has led all-conference sings at several UU General Assemblies and conducted the choir at the Boston gathering of the Unitarian Universalist Musicians Network (UUMN).
Nick has led music residencies as guest speaker and composer-in-residence throughout the US (48 states) and throughout Canada.   For two years he was the keynote speaker at the Scottish Association of Music Educators (SAME) and has taught in schools in Ireland and throughout the UK.
Nick is an active member of The American Choral Directors Association (ACDA).   He is a former chair of the Eastern Division Committee on Multicultural and Ethnic Standards.   He is also a member of UUMN, the Unitarian Universalist Musician Network.
Nick's father Bill Page introduced him to the writings of Buckminster Fuller, Brian Swimme, Ellen Dissanayake, E. O. Wilson, Rupert Sheldrake, Matthew Fox, Jean Huston and many others.   In his Vermont living room in 1983, Bill Page and friends changed the way first time offenders were punished in Vermont.  The system is now called RESTORATIVE JUSTICE and is used throughout the world.   Nick and his brother Ted loved singing with their father, the great WRP.
Nick's mother Janet Fish Page grew up in a musical family.   Her sister Lois taught music in Windsor, VT for forty years.   Her mother, two aunts and a great aunt were organists.   Her father played trumpet (far right) beginning with his days in the college band at Middlebury College in 1916.   The five Page boys (Cal, Charlie, Nick, John and Ted were always singing throughout their youth.
Nick's hobbies outside of music include architecture, particularly the buildings of Frank Lloyd Wright.   Nick has been to over 200 FLlW buildings and was the choir director at his UNITY TEMPLE (UU) in Oak Park, IL.  Here is Nick with Marty Swisher at the pulpet of Unity Temple in March, 2014.  Nick wrote SHE SHALL HAVE MUSIC and A CHILD IS BORN for Marty.
Nick has a lifelong fascination with the MUTINY ON THE BOUNTY, particularly the story of Pitcairn Island.   In Nick's screenplay, the movie begins 17 years after the mutiny.   Alexander is the last mutineer alive.   Only he, a few of the women and the children have survived.   The others, the English sailors and the Tahitian men and women have killed each other.   The Island is not on any maps, so when an American ship "discovers" them many years later, the captain is surprised to meet the last of the mutineers. In the opening scene of the movie, we will see this America captain and Alexander  walk off to share the story.   In the foreground will be Fletcher Christian's widow with tears in her eyes.   The camera comes in close on her silhouette as the two men walk off.   The rest of the movie tells HER story (royal birth leading to the horrors of life on a small island occupied by English sailors who see themselves as the Lords of the Universe and the truly noble Tahitians who we see to be the truly civilized heroes of the story.
Nick studies new paradigm science.   He is reading SCIENCE SET FREE by Rupert Sheldrake, a book that challenges the dogmas of science.   Nick hopes to understand how it all works someday.
Nick has had a lifelong love of nature.   As a boy scout he climbed many of the white mountains and has since climbed in Vermont, the Adarondacks, the Swiss Alps, Northern England, and the Canadian Rockies.   In college, Nick was a lumberjack in Maine for two summers.   There aren't too many musicians who can add lumberjack to their list of credentials.   The photo is Nick on New Hampshire's Mt. Washington in the late 70's (a selfie).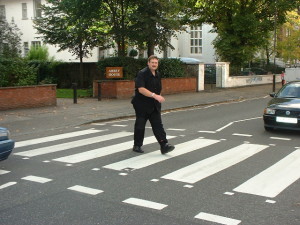 Nick is also a proud Beatles fan and has been to all the sights in Liverpool and London.   He can tell you who played viola on their song "Yesterday."  Here he is crossing Abbey Road.