Quotes & Testimonies about Nick Page
"Nick Page is both a natural and a schooled musician, with a boundless enthusiasm and ability for awakening song.  He is a collector of folk tunes from around the world, and a gifted teacher.  Sing with Nick!" Alice Parker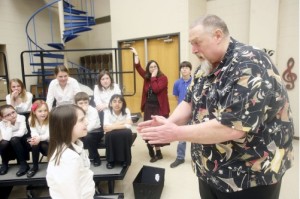 "I had the distinct honor of hosting Nick Page on the NIU campus and it was the highlight of my time here in the School of Music.  Nick is one of those rare individuals who is extremely talented but totally accessible at the same time.  He uses music and humor to cultivate joy and harmony in people in a way I cannot really describe without getting emotional.  Just after he arrived, he gave a 50 minute presentation that was engaging, funny, memorable, well prepared, and the time flew by!  I saw our college students interacting in a way I have not seen, and it was because they were asked to make a real connection to each other, through music.  That is Nick's gift and my students and I were truly changed by our experiences with him.  At the end of our three days together, he had made a lasting impact on my choir, the School of Music and the greater community." Mary Lynn Doherty, Northern Illinois University in DeKalb, IL 4/6/14
"Composer, arranger, choral conductor, teacher and song leader Nick Page gives historical context and current practices for music from around the world; he can explain writing and arranging music in a way that inspires awe and wonder along with clarity for all ages; he is precise and musical teaching and conducting any choir, and he connects with people so naturally as one so comfortable in his own skin.  If you need a guest artist or clinician for a conference or choral festival, Nick Page should be at the top of your list."  Michael Wu, Voices United ACDA VA Festival 8/10/14
"Working with Nick was inspiring – he is very spiritual as well as funny – and a precise and imaginative conductor."  Participant in chorus directed by Nick at 2013's North American Jewish Choral Festival"Nick Page's soul is filled with a very special and unique goodness (and I don't use that word lightly) that reaches deep into the minds and souls of those with whom he works. Each and every life he touches is better for having worked with him, been lead by him and/or simply known him." Dr. Donald Neuen, UCLA, Crystal Cathedral.
"Nick Page embraces the whole world in his soul and in his music.  He is a skillful, passionate, and respectful interpreter of world music who backs up his work with knowledge and context.  As composer, teacher, and songleader, Nick inspires people through song like few others, empowering them in the process." Emily Ellsworth, Glen Ellen Children's Choir
"Nick Page's teacher workshops were meaningful and productive and have had an immediate positive effect on our classroom teachers and students.  They are practical and 'real'." David N. Jost, Coordinator of Fine Arts, Westborough, MA Public Schools
"Nick Page masterfully wove artistry, social justice, and mindful educational practices into his workshop at the University of Miami World Music Pedagogy Course. Participants in the course, including music teachers and music students, were challenged to think about the nature of world music and stretch the boundaries of world music for its creative and expressive potential." Carlos Abril, Ph.D. Director Undergraduate Music Education at FROST SCHOOL of MUSIC, University of Miami, 3/7/14
"THANK YOU for your incredible, inspiring, wonderful work with our students. We are so grateful!  The teachers have been raving about the experience their students had.  Your concert is one for the books in the history of the District One Music Festival and will be talked about forever."  Michelle Snow, Southern Maine Treble Honors Choral Festival 1/25/14
"The audience loved the diverse repertoire (much of it yours, of course).  I think that many of them are still a little awestruck by it all.  One mom came in to talk to me about how much she was moved by the concert, your music, and your conducting.  She had tears in her eyes, so grateful for the unforgettable experience she had in the audience.  Everyone responded to your honesty, openness, and willingness to fully be yourself.
You even inspired the audience to a new level of greatness – the room was "pin drop silent" at times. I'm sure that I've never "not" heard anything like it!  Then, just 15 minutes later, they were laughing and singing along to "Do You Shine."  What a great night!" Sara Boos, director of the Northwest Girlchoir in Seattle, WA 3/16/13
"Each song brought out more in us. We stood up and danced. We laughed, we "awwhhed," we clapped. We sent our voices to the stars with every new line starting "twinkle twinkle." We filled the auditorium with an audible joy.   We turned voices, broken with too many harsh words and too much unkindness, into a beautifully unified harmony. We cherished the words "beauty" "freedom" "try," and we realized, "we are community."
When it was time for the last song, we rose, joined hands, and weightlessly danced around the hall. People of every age, every religion, and every color connected in a parting embrace. People of every life story joined together and suspended themselves in a brief moment of time. Then, they applauded in a wholehearted roar and stood to leave – fulfilled. The joy seeped out as a few children continued to sing in the lobby and outside…. Then, it faded into the dark night, as a community of changed individuals departed to embrace the world. " Alexandra Drechsler, student at Nequa Valley High School in Naperville, IL  September, 2012
"Nick has led singing, conducted, and taught at Beth Sholom Congregation and the Perelman Jewish Day School of Philadelphia with great success.  This past February, he was incredibly successful as scholar-in-residence at the Miller Cantorial School of the Jewish Theological Seminary in NYC, teaching his song leading approach to my Methods and Materials Class of Jewish Music Education, leading a "Power Sing" for students and faculty, and conducting my student body chorus."  Hazzan David Tilman, 3/12
"The unique Mr. Page was a great success here in New Orleans:  I loved the fact that he had the audience singing and dancing along!  He had our children's choir playing instruments, dancing on stage, and everyone had a ball!  There was a great sense of community as we all shared the precious gift of music."  Melissa Brocato, Honors Choir Chair for Louisiana ACDA
"What's amazing about Nick Page is that you don't just listen to his concerts.  You EXPERIENCE them.  From the opening song, you are enveloped and involved in the power and joy of music from all over the world.   Nick is a master at orchestrating audience participation in the songs.   Don't miss a chance to experience Nick Page.  You will have fun and be moved!" (Audience member)
"Nick Page has an engaging presence unlike any other.  The children were immediately engaged in singing music of many styles, cultures and languages." Henry Leck, Indianapolis Children's Choir
"Nick Page brings people together in a unique way through singing.  His sensitivity, enthusiasm, and love of music from all cultures shines through his artistry and creativity." Dr. Barbara Tagg, Syracuse Children's Choir
"I've never seen anyone else who can capture the enthusiasm of a crowd and make them all into joyful, expressive, energized singers like Nick can." Lee Kesselman, composer
"I have had the pleasure of participating in two workshops with Nick, as well as listening to multiple concerts by him. I teach in an urban district where presenting music as well as teaching music has its own special challenges. Nick possesses several qualities that not only meet these challenges but also move students (and teachers) beyond what one expects from a presenter. He is a very strong vocalist, has a very wide and flexible repertoire, and he "commands a room" in a very kind, yet strong way.  The end result of the above qualities is an atmosphere where the audiences are immediately taken over by Nick's voice and their interest is held by his programs.  Nick has a particular interest in multicultural music. This works well with urban students. As well as singing these pieces of music he tells very interesting stories about the music, adding to the experience."  Ed Schutte, Music Director at the Susan B. Anthony Middle School for the Arts in Revere, MA
"Nick uses his knowledge of the cultural context of the music to take the students on a musical journey they long to travel again and again." Tim Sharp, Miami Children's Choir
"Nick Page is an American Icon, a song leader and choral composer dedicated to world music and music education for all."  Dr. Doreen Rao
"Nick's approach to the choral concert process provides relief from tired programming models."  Dr. William Belan, Cal State, LA
Dear Nick,
I had meant to write you weeks ago to thank you for one of the most inspiring and moving experiences of my life — sharing with you in the beauty and joy of making music together.   You are a remarkable man, Nick.   Even though you are a most physically imposing and charismatic individual, what impressed me so is your selfless devotion to our group and our  music.   You are not a song leader; you are a song lover, inviting your audience to join you in body, mind and spirit in a great celebration of our humanity through music.  My children — six through thirteen — were moved as well.   It was a transcendent experience — one we'll never forget.  Lois Bridges Bird  Palo Alto, CA  2/24/95
Nick Page stood on stage before five hundred singers…No one knew quite what to expect from Nick Page even though they were told he was a "world ethnomusicologist!"   Mr. Page began with a simple greeting to our students.   Then he asked the house to sing back a phrase as sung to them.   A simple melody came from his lips, "Bring me little water, Sylvie…" Students echoed the thought.   "Bring me little water now…" was also returned.  "Bring me little water Sylvie, every little once in a while."  The words were so simple, the melody so plain that one might not expect much in the line of musical offering from the mouths and hearts of middle and senior high school vocalists.   The sound that echoed to Mr. Page, however, was one of the most glorious sounds ever sung by a group.   It was not loud or powerful.   There was no vocal competition.   It displayed no technical virtuosity.   The voices were pure, the line had natural rise and fall, the choral blend was impeccable.   The sheer beauty of their unison was moving.   Mere moments later, with helpful guidance from Mr. Page, the house was swimming with simple, clear, ringing harmonies.   Homemade harmonies.  Vocal parts from their hearts, if you will.   In addition to beautiful fold melodies from around the world, Mr. Page imparted to all of us, the significance of the tunes and texts we sang that day.   We had a clear vision of the experiences of those who first sang the music, what it meant to them culturally, and why the songs were part of their lives.   Mr. Page somehow fostered an environment that allowed each singer to contribute to the whole while being creative, artistic, and independent… If one could put such a thing into words, the very power of music itself would be diminished.   Suffice it to say, it was near indescribable and 'you had to be there.'  You Had To Be There, Testimonial from the Naperville, IL Highschool newsletter, Nov. 1997.
From Grand Forks Herald 2/9/99:  To rid shy audience members of any inhibitions they might have had about singing, an unabashedly exuberant Nick Page started the show.   With Page, you aren't allowed to think about whether or not you want to sing.   Page says "Do this!" and makes a motion, and you make it, too.  He says, "Sing this!" and sings a line of melody, and you sing it after him.  With Page, enthusiastically expecting your participation, you cant figure out whether you are more embarrassed to sing or not to sing, so you throw inhibition to the winds and just sing.  So does everybody else.  To be in the midst of all those people collectively raising their voices was very moving.  The collective experience of melody and emotion is what folk music is all about.
All reports about your four days in Miami have been overwhelmingly positive.  You brought great joy to the more than 2,500 children and adults who experienced your "zestness."  It is a tribute to your artistry and humbleness that people of all ages felt similar joy.  Bravo to you!  Hope you'll come back and do it again next season.  Tim Sharp, Miami Children's Choir